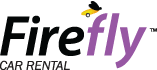 Firefly is a company of recent creation (2013). We know little of her except that she was born under the protection of the Hertz.
By now it has opened branches in Spain, France and Italy as European destinations. United States has more than 20 offices.
Firefly Car Hire fleet
Firefly has been divided in its fleet of vehicles in the following ranges:
Mini Within this class, are smaller and more manageable market vehicles. Ease of parking should subtract his limited capacity to carry much baggage.

Mercedes Smart For Two
Mitsubishi Colt
Ford Ka
Fiat Panda

Economic They will be small cars with two or four passengers with a set price and low power consumption. Perfect for short trips in the vicinity of your destination.
Compact Within the lower categories of vehicles, the compact range will allow us to a rather more comfortable displacement due to its internal capcacidad. With a space for five adults without grips and a capacity to carry extra luggage.

Opel Astra
Ford Fusion
Ford Focus

Intermediate Here the term is broad enough. We have vehicles that reach seven squares and important enough load dimensions. Although other vehicles come reduced its passenger capacity to transform itself into a powerful car with high performance. Within this category may include even automatic transmission cars.

Opel Zafira
Ford S-Max
Ford C-Max
Ford Mondeo Station Wagon
Toyota Avensis

Premium This category is reserved for vehicles with greater capacity or additional equipment that will allow you to enjoy the ride and the road.
Among domestic destinations are:
One of the downsides presenting this House is that at any time we have been able to locate a phone number to request a consultation.